The past decade saw the forensic fraud investigation and dispute services market transform into a multi-billion dollar industry. A large number of players now serves the needs of companies and financial institutions having to comply, navigate and respond to ever demanding global regulatory requirements.

The forensic investigation business became a global industry from the early 2010's. Not only did leading accountancy firms started to train more forensic accountants, but they also started to hire ex law enforcement and regulators, lawyers, financial crime experts, technology specialists, data analysts, coders, and corporate intelligence professionals. The increase in FCPA international enforcement, the introduction of the UK Bribery Act, the development of anti-corruption legislation in emerging markets, and the growth of multi-million-dollar "aircraft carrier" sized investigations projects led by the Big4 audit firms spanning dozens countries triggered a boom in the forensic business, globally.



Today the market is more fragmented, with the big4 audit firms challenged by smaller, more agile, technology and intelligence orientated firms. Where Big4 Audit firms once dominated a highly concentrated market, today the market is more fragmented, with the accountancy firms challenged by smaller, more agile, technology and intelligence orientated firms. Technology is cheaper and more easily accessible. Expert resources and specialist capabilities are available via distributed networks. With virtual global networks, smaller firms can offer more scalable, efficient and reliable support to their clients.

Having operated in the space for almost 20 years, we understood that organisations are operating in an increasingly complex and hostile business environment - that requires special support for never-experienced-before special situations. These new situations seldom get solved by buying a suite of services, expensive technology, and rooms filled with consultants on hourly rates. They require a specific solution. It was with this in mind that Kalita Partners was born. By combining forensic fraud investigation and technology skills together with corporate intelligence capabilities we are able to deliver tangible value and solutions for our clients - not just reports.


What are Special Situations?

We started Kalita Partners to assist companies during "special situations" that occur outside of the usual course of business, or that have the potential to harm the business and its reputation. The nature of these situations can vary greatly. They often carry an element of urgency and the necessity for speed, accuracy, and discretion. Here are a few examples:

Cross-border transactions or investments in unfamiliar markets that require a level of confidence to understand and manage stakeholders, integrity and reputation risks.
A public company targeted by activist investors or short sellers needs to understand, analyse, and respond to the situation.
A company victim of an elaborated fraud scheme needs to investigate the matter.A compliance investigation into alleged financial misconduct in a subsidiary.
A firm faces a data leakage incident and requires cyber investigation and remediation support.An in-house financial crime team in a bank requires investigative support to understand a complex network of structures and UBOs covering multiple challenging jurisdictions.
An investor is looking to enforce a judgement award and requires asset tracing and recovery support.
A litigation team needs eDiscovery, forensic and corporate intelligence support in the context of a high value cross-border dispute.
A bank is looking to extract value from its portfolio of Non-Performing Loans and requires asset recovery strategy and funding.
Where do we operate?

Over the years, the UK has become a prime destination for major litigation from the Russia-CIS region and other developing markets. In other words, the former Soviet Union countries have been feeding the London legal and professional services market with major cases for decades.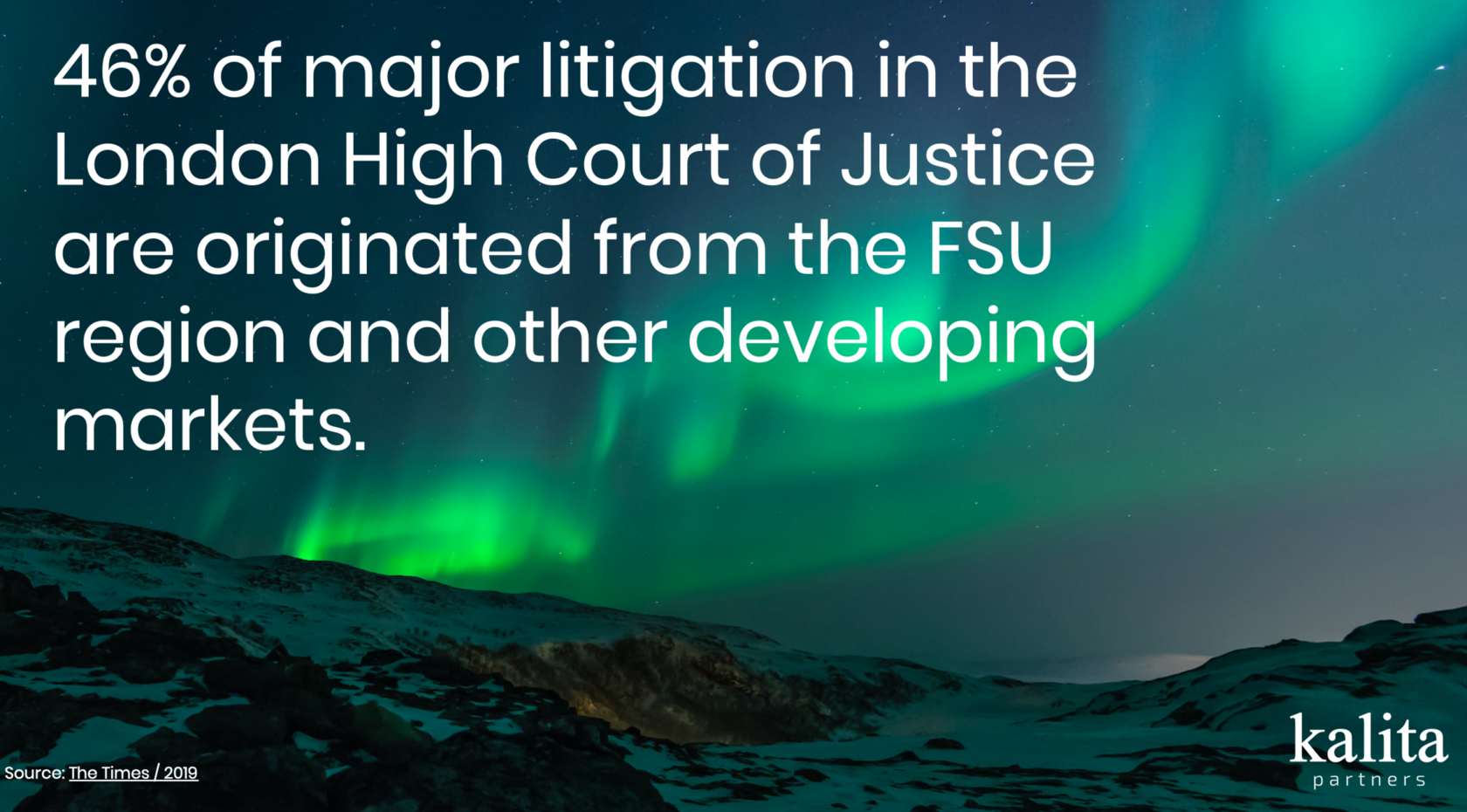 Whilst working in the forensic practice of a Big4 accounting firm in Central Eastern Europe, I gained significant expertise in the region and understood its role and importance for the financial, legal, and professional services business in London. This is why it became a priority for the future Kalita Partners to acquire the best team of professionals with unrivalled experience and deep knowledge of the Russia-CIS countries. Thanks to the PwC alumni network, Alexander Pisemskiy, Alexander Khaki and I met and decided to join forces as partners. We launched Kalita Partners in London in September 2019.Not only we can provide support to Russia-CIS disputes in London but we can also support international companies and investors dealing with complex situations in this region (transactions, compliance, disputes and asset recovery matters) providing both inward and outward support.

Beyond this region, we have built extensive capabilities and specialist networks to support clients in Asia, the Middle East, Africa and Latin America. We assemble teams of specialists, networks of field experts, covering various, often challenging jurisdictions, to create solutions and deliver actionable results for our clients.


Who are our clients?

Typically, our clients are law firms, international businesses, financial institutions, investors and family offices.

In terms of sectors, we tend to work mainly for financial services, extractive industries, pharmaceutical and life sciences, technology, construction & engineering, and more.


What will be happening in 2020?

We continue to develop and consolidate Kalita's core business and team – helping clients to respond to special situations globally.In parallel, we are developing a new and innovative offering purely dedicated to Asset Recovery. We are building the team, refining the approach, and will be launching mid-year.

If you would like to chat and know more, get in touch with us.

Julien Artero - Co-founder and Managing Partner

Copyright 2020 - Kalita Partners